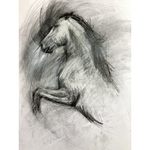 Day 30 #100horsesbyroxanne
Throughout the project so far I've been focussing on the horse's head, going between anatomical drawing and expressive drawing with the intention of eventually observing the anatomy of the entire horse and depicting it in full. The next 70 days will be the perfect opportunity for me to plough forward with this.
I began the project with a few small mixed media paintings but as time went on I made the conscious decision to start with the basics of dry media instead and to gradually introduce more of the wet media, such as paints and inks, later on. I want to be able to see the process of what I'm doing every step of the way and to see the progress I'm making with the handling and application of the materials I'm using. What works and what doesn't? What do I like using, what don't I like using? Everything I do over the next few months is going to be invaluable learning for me which I can then apply to the large scale paintings I'm currently working on behind closed doors in the studio. 
Today's drawing is willow charcoal, charcoal pencil, graphite and pastel on cartridge paper.