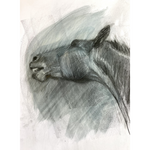 Day 33 #100horsesbyroxanne
I love using ink and mixed media. It's the contrast between the free flowing quality of the ink with the dry, expressive, lines of the drawing media which appeal to me most. I've previously tried using watercolour in my work but I find it doesn't quite hit the spot for me as well as ink does. When I experiment with ink I can create some wonderful effects that I just don't seem to be able to achieve with watercolour. Ink feels more natural for me. 
Today, I used black Quink Ink by the Parker pen brand on cartridge paper. Although it's black it dries this wonderful blue/green colour. If used on other substrates the colour tends to change accordingly. Sometimes, if quite a lot is washed over a surface, it ends up becoming a gorgeous deep blue with orangey edges. I'm not sure what causes this so if anyone knows then please do let me know in the comments below 👍
I wanted to practice my foreshortening again for this one. I remember at art school in one of our life drawing classes being told to move around the model and draw from a different angle. I chose to draw sitting on the floor looking up. I picked the most difficult perspective but I remember really enjoying trying to capture poses like this. It used to challenge me and I found it so much more interesting than drawing from the regular viewpoint.