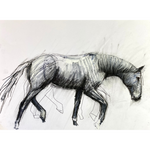 Day 85 #100horsesbyroxanne
I wanted to give this process another go today. I began by doing another blind contour drawing (see photo below) from the same reference photo I used yesterday. I then used grey markers, a ballpoint pen, white pastel and charcoal to build upon the initial drawing.

Again, I only used the reference photo during the second half of the exercise to help guide me with the proportions as I want to steer away from relying on them so much for my work. I also didn't use so much white acrylic paint and left in the lines of the under drawing. I feel that this brings more life and movement to the drawing.