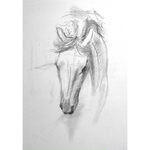 Day 24 #100horsesbyroxanne
I wanted to see if I could use graphite in a slightly different way today. As a contrast from yesterday's drawing this one is more serene, lighter and quieter. This was intentional.
Most of the time I tend to lay a lot of graphite down onto the paper before I even begin to draw. My marks are scratchy and expressive, (a massive contrast to the tight, precise commissioned animal portraits I do) and my horses are generally quite dark. This is because I'm often more drawn to darker coloured horses or images which have a sense of dramatic atmosphere.
I was working from a reference photo of a grey horse for this one which was perfect for what I hoped to achieve! I tried to use a minimal amount of lines to try and deter me from going into any great detail and to force me to only pick out the most important parts of the animal's form. This is particularly hard when I'm so used to picking out minute detail. The way the horse is carrying its head is what attracted me to it and this is what I wanted to try and capture.
Even though I said yesterday that I wanted to practice drawing horses's heads from a variety of angles other than from the front or from the side to get some diversity into my work, with this one, even though it's a frontal view you can see its beautiful curved neck and feel it's wild, free spirit just from the way it's holding it's head. It's an interesting pose and I felt the need to depict it in a more  sensitive way than usual.
Where there was shaded areas, instead of using the graphite to apply it in layers, here I laid down a small amount and then smudged it lightly with my fingers to give the effect of the shadow. I really love the effect and only giving hints of what is there. I also made sure that I was using the measuring guides I'd learnt at the beginning of the project to help me get a rough idea of the proportions.
The saying goes that less is more. I especially believe this today. If I had elaborated on this drawing and taken it further I think I'd have got to the point of no return like I do so many times with my work and would either have screwed it up and thrown it away or erased it and started again. I'm so glad I stopped when I did and that, for me, is quite an achievement 😊