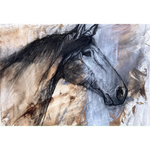 Day 3 #100horsesbyroxanne
Here I've used acrylic, charcoal and pastel on gessoed watercolour paper and its size is 26.5cm x 20cm. The colours I've used are Burnt Umber, Black and White. Whilst keeping in mind some of the details of the skull I drew yesterday, I wanted to keep this one as simple as I could without going into too much detail, using line, a little shading and the use of the background colour to suggest the horse's form.
I've worked intuitively using a variety of gestural paint strokes. This element of 'play' really helps loosen me up in the initial stages and allows me the freedom to explore, express and discover new techniques as I'm going along. By then introducing the figurative element into the mix (the horse) and working on both approaches simultaneously, there then becomes a cross over between the abstract and the figurative. This is something I'm wanting to delve more into. I'm not quite there yet.