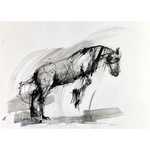 Day 74 #100horsesbyroxanne
The pose of this horse is proving really difficult for me. Not satisfied with the drawings I did yesterday, I had another go today. 

I know that I can draw horses well and am now more aware of where things are located on a horse in regards to the skeletal and muscular structures, so why when I use specific exercises to try and loosen up do my proportions seem to go out the window?! I know these specific exercises are more about the gestures created and are a great way to really open oneself up to expression but it's when I get lost in this self expression and mark making that I simply forget to really observe the proportions. I'm still not happy with these and can see where the flaws lie. Now I have to understand why this is happening and learn how to combine the expression with more accuracy. 

This is the first time I've used ink during this project and I must say I do love the freedom it gives you. For the first drawing (above) I used black Indian ink and applied it with a bamboo stick with the end cut to a nib whilst holding it right at the very end. It gives you these wonderful scratchy marks. I also tried using watered down ink with a soft brush to create a lovely contrast in comparison to the other pen marks. 

The second drawing is ink and mixed media. I created the main structure of the horse using the bamboo stick and washed over a little ink with water again. I then let it dry and drew back into the piece using charcoal and pastel. I find that using dry media alongside wet media adds further interesting contrasts and helps create strong form where needed.