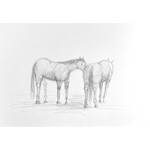 Day 81 #100horsesbyroxanne
After yesterday's life drawing session with the horses I wanted to try and use my sketches back in the studio to see if they could inform another piece of work. Many figurative and abstract artists do this such as UK artist Lewis Noble. Lewis is an abstract landscape painter and uses the sketches he creates outdoors to inform his work back in his studio. His process is so fascinating. 

I'm thinking out loud here but is there a way I could use my sketches to help inform the work I do back in my studio? Could it be the pose of the horse I interpret? The energy and movement captured in the studies? Or could using my sketches as a tool go even further somehow? I'm not sure in what way but is there a less obvious approach I could take which use the sketches to help guide my studio work? 🤔 To start with I've made the decision to use the work I did yesterday to help better improve my drawing of horses and my memory.

For many years I've used photographs to work from so working from life is a must for me now. This is not to say that working from photos is a bad thing and that I'm going to stop working from them altogether, I just think that working from life will help develop my observational skills. There are many benefits to life drawing and some of them are listed here in this really great blog by Mary Li Art. 

Today I selected a pen sketch from yesterday (see photo below) which really stood out for me. It's only tiny but I feel it really captured the moment of two of the horses standing, dozing in the sun. I wanted to see if I could recreate the image in pencil but a little more refined (see photo above). I didn't want to use any photos as reference, only my sketch and my memory. By memory I mean both my memory of the anatomy of the horse and the moment of observing the two horses. By working in this way I believe it'll help me recognise the areas of the horses's anatomy I need to keep practicing and get lodged into my brain. The challenge of not using a reference photo obviously wasn't enough for me that I also decided to set my timer for 10 minutes in which to do it 😱. Once that 10 minutes was up I had to put the pencil down.

There are soooo many things wrong with today's drawing both regarding the proportions and the anatomy. However, considering I didn't use any other reference to help me I'm really proud of what I've achieved and can definitely see how much I've developed over the past 81 days.