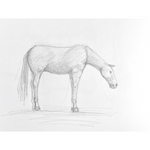 Day 83 #100horsesbyroxanne
More working from my life sketches I did on Wednesday today, to help inform my drawings back in the studio.

By actually using my life drawings after I've done them, along with my memory of the horses I was drawing and their anatomy, it engages my imagination making more room for creativity. Heavily relying on reference photos, I've found, can sometimes stifle my expressiveness. Like I've said before, I'm not saying drawing from photos is wrong but drawing from life tends to give you that inspired fluidity that working from photographs can, on occasions, deprive you of. 

By working in this way I'm also discovering where I'm stumbling when it comes to the horse's anatomy. Today's drawing clearly isn't anatomically correct but because I'm not drawing from a photo it's forced me to look back at my anatomy drawings and compare them both to see where I need to improve. 

My imagination is sneaking in here as I've taken two life sketches done in pen and made the decision to combine them both into this one pencil drawing (see photo above). I really liked the sketch of the horse standing but I wanted his head to be lowered so I used another sketch as reference for the head (see photos below).